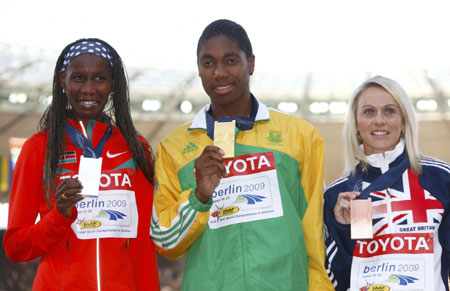 New 800m world champion Caster Semenya almost snubbed her gold medal ceremony after being told to take a gender test, a South African sports official says.
Athletics South Africa President Leonard Chuene told a local paper that he had to "persuade" the athlete to go to the podium to accept her award.
Mr Chuene says the 18 year old was unhappy about the gender row and asked him why she had been taken to Berlin.
The BBC has seen Ms Semenya's birth certificate, stating she is female.
Why did you bring me here? You should have left me in my village at home

The case has provoked an angry reaction in South Africa.
The ruling African National Congress, along with numerous officials and other bodies, have said she has been unfairly treated.
"She said she did not want to go on the podium, but I told her she must," Mr Chuene told South Africa's Times newspaper.
"She is not rejoicing. She [didn't] want the medal," he said.
"She told me: 'No-one ever said I was not a girl but here [at the World Athletics Championships in Berlin] I am not. I am not a boy.'
"Why did you bring me here? You should have left me in my village at home," Ms Semenya reportedly asked Mr Chuene.
Dorcus Semenya: "It's my girl... I gave birth to that girl"
Her mother Dorcus Semenya has told the BBC that the athlete is certainly female.
"I have no doubt about what I see. It's a girl," she said.
Mr Chuene on Thursday expressed outrage at the order that Ms Semenya undergo a gender verification test.
He said she had been "humiliated" and treated like a "leper".
Groups supporting her have been formed on the social networking site Facebook.

Her birth certificate clearly states she is female
The ANC has urged South Africans to rally round "our golden girl".
While the Young Communist League of South Africa said she had been the victim of racism.
The International Association of Athletics Federation ordered Ms Semenya to take the test after she made remarkable improvements in her performances in recent months.
The IAAF stresses that it does not suspect her of deliberately cheating but questions whether she may have a rare medical condition which gives her an unfair advantage.